MTLove 2
In General
Overview

most recent version:

2.4.3b (changes)

release date:

2011-05-03

dependent on:

Word of Warcraft 4.1.0

license:

GPL v2

development state:

discontinued
MTLove2 is a addon for Blizzard's MMORPG World Of Warcraft.
It adds a "target of mouseover" function to the wow-client (the "mouseover" is the unit who is under your mouse-cursor).
The main advantage compared to Blizzard's built-in function is that you don't need to switch your target to get this information which is much faster, especially in combat and you can still cast spells on your target.
It was originally made to help tanks (therefore the name MTLove -> Main-Tanks-Love) but it may is also useful for any other class.
It provides a frame attached to your mouse and/or a additional tooltip next to the default one.
In addition it can add small counters to its frame, its tooltip, the default target-frame and the default focus-frame, which display the number of players per class or armor type who have your mouseover/target/focus as target.
Screenshot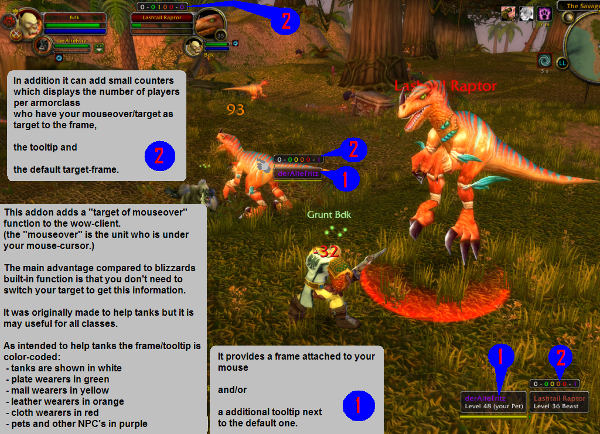 (click the image to show a higher quality version)
Usage
All settings are set up using a setup-GUI. It can be opened with typing '/mtlove' into your chat and pressing the [ENTER]-key or via the addon-tab in the interface options. Settings are stored for each character separately.
All commands and how to enable, disable or override the localization are described in the included readme file.
Optional Supported Addons
oRA3
CT_RaidAssist (not verified yet)
TipBuddy (last verified Version: 2.38, "tipbuddy for wow 2.0" from curse-gaming.com)
myAddons (last verified Version: 2.7)
Recommendation
Please remove the whole MTLove folder before updating the addon. Don't just overwrite the old with the new one.
Bugs / Limitations
License
This program is free software; you can redistribute it and/or modify
it under the terms of the GNU General Public License as published by
the Free Software Foundation; version 2 of the License.
This program is distributed in the hope that it will be useful,
but WITHOUT ANY WARRANTY; without even the implied warranty of
MERCHANTABILITY or FITNESS FOR A PARTICULAR PURPOSE. See the
GNU General Public License for more details.
Download
The outdated change log can be viewed here.
Links