Randoom Mobile
In General
Overview

most recent version:

release date:

2012-05-20 (Android)
2009-06-29 (J2ME)

dependent on:

Android 2.2 or higher
or
Java J2ME MIDP 2.0
CLDC 1.1 or higher

license:

GPL v3

development state:

pending
Randoom Mobile is a special version of Randoom for your mobile phone.
This small application which is designed to generate random numbers, which should help the user to decide some arbitrary problem. Obviously the problem has to be numerical or you have to have a finite number of known possible solutions in mind.
It uses the same back end as the PC-version but features a different interface. To account for limitations by contemporary phones and to make it more easy to use it is somewhat limited, but still provides most functionality.
Usage
To use this software download the apk or jar-file (link is on the bottom of this page). If you use some software on your PC to sync your mobile phone, you maybe able to install it with that software.
If you don't use such software or don't want to use it, copy the downloaded file to you mobile phone (using a USB-cable or a memory card). Use the phones file manager to find and open/run the file. The phone will guide you though the install process, which creates a new menu-item on your phone. When you use Android you must enable the "unknown sources" option in the application settings. You may remove the installer-file from your phone after the installation process is complete.
To launch the application find and start the "Randoom Mobile" menu-Item in the menu of your phone.
Screenshot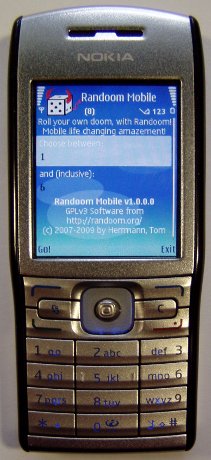 (click the image to show a higher quality version)
License
This program is free software; you can redistribute it and/or modify
it under the terms of the GNU General Public License as published by
the Free Software Foundation; version 3 of the License.
This program is distributed in the hope that it will be useful,
but WITHOUT ANY WARRANTY; without even the implied warranty of
MERCHANTABILITY or FITNESS FOR A PARTICULAR PURPOSE. See the
GNU General Public License for more details.
Change Log

=====Android=====

---v1.0.1--- 2012-05-20
 * update Android GUI using newer standards and practices

---v1.0.0--- 2011-08-06
 * initial release for Android phones

=====J2ME=====

---v1.0.0.0--- 2009-06-29
 * initial release for J2ME phones
                        
The full change log can be viewed here.
Download